Women joining with each other and with God, as we study God's Word, pray for one another, fellowship together, and just plain have fun.
We meet twice monthly on 2nd and 4th Monday evenings, starting with a light meal at 5:15 followed by discussion from 5:45pm until 7:00pm.

You are invited, and feel free to bring a friend.

Current study: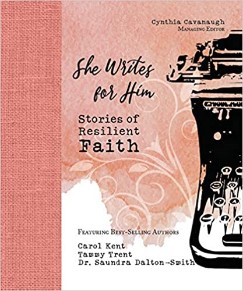 She Writes for Him - Carol Kent / Tammy Trent / Dr. Saundra Dalton-Smith

(The book is ordered in bulk. If you would like a copy, please click the contact link below and let us know.)

Facilitators:
Cathy Pierce - 360-440-2975
Darlene Limanni - 253-249-5895
Mary Samida - 253-350-8921
Mission Statement:
Faithful Hearts seeks to establish vibrant biblical fellowship for the women of the congregation, and community. The purpose of every program, event, and activity is to minister to women with truth, compassion, love, and laughter.