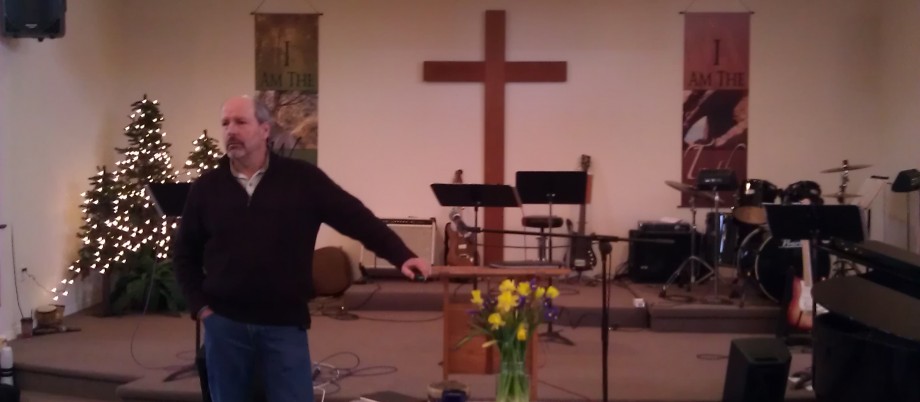 This is where you'll find audio from our weekly teaching time. Be careful - this is powerful stuff!

Don't say we didn't warn ya!
Sermons Online
Introductory remarks
: We've been rooting around in the Apostle Paul's letter to the Ephesians for a few months now. I was listening to the teaching last week and something Dale read in Ephesians just caught me by surprise - I had never quite seen it the same way before. Like I said last time, Paul has a LOT of words, and so our brains can sometimes just check out, but here was a little statement that just reached out and grabbed me by the heart and I just had to stop right then and say to God, "God…you're truly amazing. Amazing and wonderful. Amazing, wonderful, and full of love for us. God, you are way too cool. Thank you. I love you!" What was it I saw? The David Crowder video I played during break gives you a bit of a hint, but let me read it to you and take you on a little journey around the ramifications of what God says to us through our brother Paul…
So, What's the Big Idea?
"Recognize how fiercely God has loved you and dare to live in the reality of it!"
How does God love us?
1. He dreams .
2. He schemes.
3. He teams.
4. He redeems.
Ephesians 2:1-10
Once you were dead because of your disobedience and your many sins. 2 You used to live in sin, just like the rest of the world, obeying the devil—the commander of the powers in the unseen world. He is the spirit at work in the hearts of those who refuse to obey God. 3 All of us used to live that way, following the passionate desires and inclinations of our sinful nature. By our very nature we were subject to God's anger, just like everyone else.
4 But God is so rich in mercy, and he loved us so much, 5 that even though we were dead because of our sins, he gave us life when he raised Christ from the dead. (It is only by God's grace that you have been saved!) 6 For he raised us from the dead along with Christ and seated us with him in the heavenly realms because we are united with Christ Jesus. 7 So God can point to us in all future ages as examples of the incredible wealth of his grace and kindness toward us, as shown in all he has done for us who are united with Christ Jesus.
8 God saved you by his grace when you believed. And you can't take credit for this; it is a gift from God. 9 Salvation is not a reward for the good things we have done, so none of us can boast about it. 10 For we are God's masterpiece. He has created us anew in Christ Jesus, so we can do the good things he planned for us long ago. (NLT)
Text:
Ephesians 2:4-5; Romans 5:6-7; Joel 2:28-32; Ephesians 2:11-20; 2 Peter 3:9; Acts 8:26-39; Matthew 18:12-14; 2 Kings 5:1-19; Acts 9:1-31; 1 Corinthians 15:3-11
For further study, application and discussion:
What have you seen of yourself in these stories? What similar experiences have you had with God? What are some of the ways you can now see that God has lovingly and fiercely come after you? What have you heard the Holy Spirit saying to you today and what are you going to do about it?