Text:
Ephesians 4:11-16; Matthew 20:20-28; Mark 10:35-45; Luke 22:20-32
Introductory remarks
: An integral segment to Joe's message last week had to do with serving, ministry. Part of his point was that the ministry gifts of v. 11 – the ministry offices of Spiritual authority – are not just resident as a ministry gift in people, but are resident as people who are the ministry gift, and among God's people. And these gifts have the purpose of causing even more ministry/serving to happen, both inside the church and outside the church, with the purpose of getting people who are outside on the inside. Today I reach back to make that 'service' a touchstone for our continued exploration into these ministry offices of Spiritual authority. Come walk with me . . .
The Authority Grid: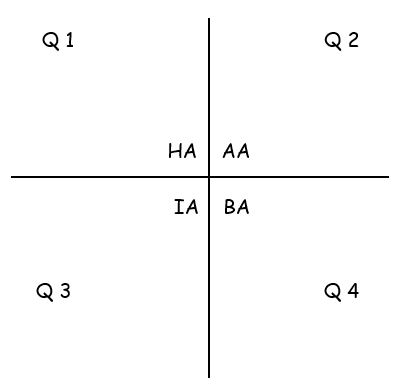 Q 1 – HA
To Have Authority
- Commission, inherent, comes from within, endowment, bestowment, gift, ordination. Not everyone who has authority is in a position of authority.
Q 2 – AA
Is An Authority
- Information, knowledge, experience, understanding. No need for position or gifting. They know their stuff and are usually happy to give it out upon request.
Q 3 – IA
To Be In Authority
- Position, from the outside, election, appointment. Not everyone is qualified to be in an influential position, and being in position is no guarantee of qualification . . .
Q 4 – BA
To Be Authoritative
- Posture, personality/temperament, external appearance. This person wants to talk about it and/or throw their weight around whether or not they know about the subject or have any position. Not everyone who is authoritative knows what they're talking about.
HA/AA =
Contributes to Influence - Quadrants 1 & 2
IA/BA =
Contributes to Control - Quadrants 3 & 4
HA/IA =
Contributes to Abuse - Quadrants 1 & 3
AA/BA =
Contributes to Manipulation - Quadrants 2 & 4
HA/IA/AA/BA =
a person of power and wisdom who can change their world - All 4 Quadrants
For further study, application and discussion:
What have you heard the Holy Spirit saying to you today and what are you going to do about it?