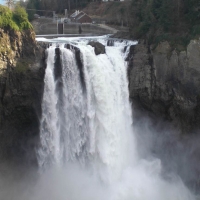 Pastor'sLog-160301-01
by dp | March 1, 2016
Perhaps you've wondered where the StarShipCedar has gone. Actually hasn't gone away, but the Pastor seems to be on ground excursions that interfere with making posts to his thinking and activities. I know! Seems real uncaptainly to me as well . . .
OK! I want to make an entry on one of the most important things I do – spend time in devotional reading and meditation. Since it's now March, and Easter is this month – the last Sunday of March – in preparation for our Easter celebration, I want to read Luke's gospel, to follow Jesus again, and then, in those days around Easter, I want to mix in how the other gospel writers talk about the crucifixion and resurrection, and those days immediately after Jesus came back to life.
The greatest moment in the history of mankind occurred on that early morning when Jesus came out of the grave! That's the moment that changed the whole game. That's when the rules changed. That's when the ink dried on the contract, and the deal between God and man went back to how God always wanted it to be. Now, nearly 2,000 years later, we relate to our Heavenly Father through faith in what Jesus did for us on the cross, not in what we do on our sacrificial alter. And our future is a promise of life based on the renewed life of Jesus – Easter Sunday is our proof day – and we receive it by faith.
Well, open your heart, and follow Jesus again, and let's see what fresh insight we can find into who Jesus is and what He's done for us.
"Holy Spirit, help me grow more into the image of Jesus as I read these words."
So check out the devotional reading calendar, and thanks for joining me – devotional reading is indispensable in growing and maturing in our walk with God!