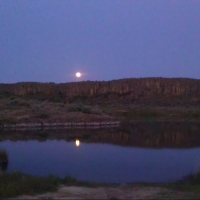 Pastor'sLog-150613-01
by dp | June 13, 2015
Today is a rather non-descript Saturday-the-13th . . . no big deal . . . except that today David is making a forceful complaint to God, and I recognize the voice. Not today, but there have been those times . . . and I didn't know how to say it in the poetic terms of the poet-king of Israel. But I hear his heart! "How long will You forget me, O Lord? Forever? How long will You hide your face from me? How long must I find my daily counsel in the sorrows of my soul? And how long will my enemies be elevated over me?" (Psalms 13:1-2)

I love how David can push ahead with his deep, honest expressions, and since we have the written records today – preserved for us for over 3,000 years – we know God didn't take him out for the transparency of his soul and the audacity to put it on external speaker. While I don't express exactly like David, I have asked Him, from time to time, why He chooses to allow some situations that I consider to be wrongs against me, and why He doesn't vindicate me and settle some scores I think need His attention! Not now, right-now!

There's a resolution to the inner conflict that David always seems to find and express. I have to confess that when I'm all worked up over something – all wrapped around the axle – I really don't want a resolution to the problem . . . right then. I want a little more pity-party time, and I want to bring in some supportive sentiment for my pain before I stop to resolve the issue in such a holy dissolve and resolve. "Trust God? Right here? Right now? I can't say this, out loud, with you listening, but I'm not ready to let God in on my emotions and bring some sort of healing . . . quite yet . . . thank you very much!"

And David finishes this canto with: "But I trust in your unfailing love; my heart rejoices in your salvation. I will sing to the Lord, for he has been good to me." (NIV – verses 5-6) I do love how the King James Version phrases some of this: "But I have trusted in thy mercy . . ." Mercy suggests I shoulda got the bad when I actually got the good. And: "I will sing unto the Lord, because he hath dealt bountifully with me." Mmmmm . . . a song in my soul, that probably spills out in my voice, and it's all because God has brought abundance to my heart.

So, when I finally put my hurt feelings aside, and actually want to find the beauty of God's abundance for my soul, I find it! I found it! It's right here! Can you see it?