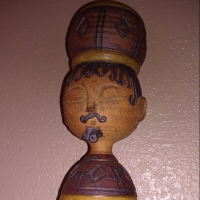 Pastor's Log-0717-01
by DP | July 17, 2014
Take a look at Psalm 1 -

I'm making two posts to my logbook today – I'm revisiting the 'why' of my focus on God's Word: Psalm 1 is one of my guiding lights in life – I want to be blessed of God, fruitful, healthy and prosperous, and, I want to possess that confidence that God is carefully watching over me! So, I don't listen to some sources of counsel, and I stay off the path of some of life's travelers, and I cannot relax with a certain type of attitude.

Judgmental? Well, just as I've learned to be discerning of what foods I enjoy indulging in, I'm also learning to be careful of what I take in intellectually, socially, and spiritually. King David tells me that the process I choose to submit myself to determines the quality of the product I get for my effort. i.e. I must be proactive, not only in what I choose to spend my time doing, but also what I choose not to spend my time doing. It's not enough to only choose what I won't do, nor is it enough to choose what I will do. I must proactively choose what I will spend my time doing, and whom I will spend that time with, and what I will not spend my time doing, and whom I will not spend time with! These are critical choices! I suggest one of the greatest contributors to failure in life can be traced back to faulty choices in these two areas. We cannot afford to allow default processes to take over our choosing (or lack of choosing) process. Note: not choosing is a choice, even when it becomes a choice by default.

So, my further choice – after I choose to stay away from the influence of those three people in verse one – is where I will derive my pleasure, and where I will park my mind/heart/soul/emotion. Verse two: I find my delight in God's demands on me, and my meditation (where I spend my mental and emotional energy) is in those same demands, and what they mean to me and how I apply them in my life.

My simple definition of delight (verse 2) is: Finding pleasure because I recognize the value. And of this form of meditation (verse 2) is: Internal conversation. So where I find my pleasure, and what I allow my mind to create self-talk around, are major determinants in whether or not God is carefully watching over me (verse 6).

My confession is that God is carefully and patiently watching out for me and over me. That's part of my story today!