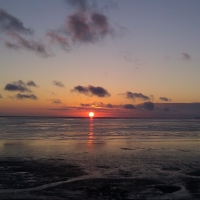 Pastor's Log-0716-01
by DP | July 16, 2014
Proverbs 16:25
There is a way that seems right to a man,
but in the end it leads to death. NIV

My focus today is a repeat of Proverbs 14:12. These two pieces always stop me in my reading, because there's something romantic about being sincere about my stuff. How often do we think that if we're just sincere, and mean well, and claim to not have any evil intent, that somehow what we're doing is gonna work out ok? How often have I heard well-meaning Christians hiding behind their lack of understanding, and making excuses for their difficult results of poor execution, because they say they meant well?! Solomon shoots a hole in good intentions, and some belief that I'm doing ok, when the reality is that God's Word – my Holy Bible – not only does not support my position, but it condemns my position/belief! And, Solomon doesn't pull any punches when he says my poor understanding may very well lead me down a destructive path . . .

Time to shift away from what I might think seems right to me, and focus on what God is actually saying!