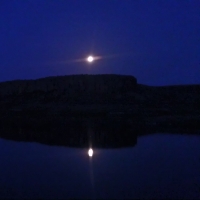 Pastor'sLog-150620-01
by Pastor dp | June 20, 2015
Psalms 20:6-7 --
Now I know that the Lord saves his anointed;
he answers him from his holy heaven
with the saving power of his right hand.
Some trust in chariots and some in horses,
but we trust in the name of the Lord our God. NIV

Today's devo reading in Psalm 20 yanks my leash! Of course I know that the Lord saves His anointed – He is my safety – and I do recognize and embrace that as a child of my heavenly Father I am one of His anointed, and I'm committed beyond question that He hears and recognizes my voice and gives response to me from His holy dwelling place, and I'm confident that salvation and safety comes into my life from His powerful hand, and still, I labor under the delusion that my efforts are of greater importance than they actually are . . . my trust in God isn't effective if I don't act on it, but still . . .

There are those that trust their beautiful, efficient, effective, powerful, technologically advanced tools of protection and/or aggression – guns, computers, houses, cars, healthy food . . . modern chariots and horses – and David doesn't spare the horses when he pivots on the 'but' clause: "But, we trust in the name of the Lord our God." This isn't an inclusive, warm and fuzzy "I wanna be nice to you and make you feel like I'm not making a demarcation between our divergent life philosophies." This is absolute that there is not a "we can play nice with each other" space for me. I either trust my truck and the guns in my back window and the one under my seat to get me out of trouble, or I trust in the unseen force of my Great God and Father who listens for/to my voice from His 'holy heaven' and acts on my behalf with the saving power of His right hand. Where is my heart?

Yes I enjoy my house, my car, my guns – I do like playing with guns and sharp objects – my technology, good food, my friendship-allies, my love for and commitment to the written Word of God . . . but I'm keenly aware that if it weren't for the powerful right hand of my God – however that power and majesty displays itself for/on my behalf – I'm pretty much just a looser on a doomed dirt-ball zooming around the sun in an orbit speed of about 67,000 mph, while it hurtles through space as part of the sun's galaxical orbit at something in the neighborhood of 560,000 mph, and our whole galaxy rotates at about 492,125 mph. So, in the total scheme of things I only count for something because the One who either pushes on the accelerator or the brake of how the universe flows is keenly aware of me.

Ahhhhhh . . . I do feel better now!